Website last updated on November 7th, 2010 (removed deprecated links)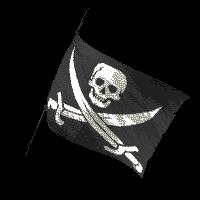 Saturday May 17th 2003:Sid Meier's Pirates sequel announced ! Full press release here.
Tuesday, May 1st 2001: Nothing new concerning the original Pirates! series but there is an attracting piracy game in developement named Sea Dogs II. Many promising features such as multiplayer gaming over the Internet are described in this article from The Adrenaline Vault. Check the official website to stay tuned and be patient since the release date is set for spring 2002. [Update, April 2003 : game will be released as Pirates of the Caribbean]
Friday, March 24th 2000: Black and white screenshots from the Mac SE/30 added to the screenshots page.
Saturday, February 12th 2000: The lost tavern moves to a new location : http://frigate.free.fr. The old site will be deleted soon, so think about updating your bookmarks. If you notice any problems with the new URL, feel free to report them to me as usual. Thank you.
Saturday, October 2nd 1999: The lost tavern received more than 10000 visitors since its opening last year. Not bad for a game released for the first time in 1987, twelve years ago !
Sunday, May 16th 1999: Sid Meier's Civilization III announced ! Brian Reynolds posted a message in comp.sys.ibm.pc.games.strategic in which we learn that "several Firaxis's upcoming products will be published under the Microprose label by Hasbro Interactive". Civilization III is one of these games, but what are the other titles ? Pirates II ? Wait & See ...
Sunday, March 7th 1999: Lost with your crew somewhere in the Carribean ? Your map has decayed after many years of having wandered the Spanish Main ? Well, download the original Pirates! map in the 'Instruction Manual & Map' section and hunt the treasure fleet in the Florida Channel !
Sunday, January 24th 1999: The "strategy and tips" section hosts a new document thanks to James Benkard. Tons of tips to become Carribean's most ferocious pirate.
Friday, January 15th 1999: Marcel Strbak from Pirates Soft uploaded his version of Sid Meier's Pirates! called Pirates II. The game is neither supported nor endorsed by Microprose.
Friday, November 20th 1998 : An alt.games.microprose.* Usenet subhierarchy has been created. Talk to you soon in alt.games.microprose.pirates-gold !
Friday, November 13th 1998 : Added playing tips from Pirates Gold's instruction manual in the "strategy and tips" section.
Saturday, October 31th 1998 : Added a link to the Flagship, an excellent website with a lot of content.
Sunday, October 18th 1998 : I have "repainted" the tavern, added graphic elements and a text only version for those who use a text browser or/and have a slow access. Enjoy!
Friday, October 9th 1998 : I have discovered two other websites dealing with Pirates! Gold. Both have been added to the links section.
Friday, September 18th 1998 : the lost tavern opened. Feedback is welcome. If your name is not "Feedback" you are also welcome.
Wednesday, September 9th 1998 : According to Tim Chown from Games Domain, Pirates 2 is in pre-production at Microprose.
Monday, August 10th 1998 : Microprose has been sold to Hasbro. Read the press release for more info.
Copyright 1998-2001 TLG